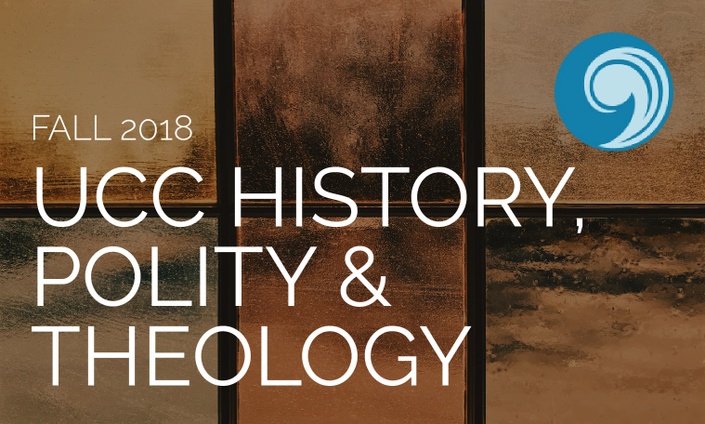 UCC History & Polity [Fall 2018]
To know where you're going you have to know where you've been.
This 14 week course examines the historical development and structural polity of the United Church of Christ. This course also spends time focusing on the emerging UCC and gives students a chance to explore social justice, world missions, ecumenism, and new and renewing congregational ministry within the UCC. Join instructor Rev. Heather Bardole for a course that will transform your denominational identity.

IMPORTANT DATES
This course will run 14 weeks, Thursday, September 5 - Thursday, December 6.
Live video calls:
Thursday, September 6
TBD
TBD
Thursday, December 6
LEARNING THEMES
Historical background of the UCC
Four foundational traditions and the UCC as a United and Uniting Church
Theology and polity of covenant, statement of faith, and extravagant welcome
Hidden histories of the UCC, the AMA, and the Afro-Christian Connection
Worship and sacraments in the UCC
Theological and structural implications of justice work of the UCC
Global Ministries and ecumenical partnerships
The UCC of the future: church revitalization and new church starts
General Synod: structure, purpose, and implications on ministry
RECOMMENDED BACKGROUND
Whether you are seeking ministerial authorization in the UCC or a lay person interested in learning more about the denomination, this course is designed for you.
COURSE FORMAT
The course utilizes the online classroom combining live webinars, recorded lectures, reading, online research, student discussion and interaction, and weekly assignments.
COURSE TEXTBOOKS
Please obtain the following books prior to the beginning of the class:
Hollyday, Joyce, C. On the Heels of Freedom: the American Missionary Association's Bold Campaign to Educate Minds, Open Hearts, and Heal the Soul of a Divided Nation
Post, Margaret Rowland, History and Program, Revised and Updated
Thayer, A. and Jacobsen, D., eds. "Christ, Creedsand Life
Walker, Randi, The Evolution of a UCC Style
Zikmund, B. ed., Hidden Histories in the United Church, Vols. 1-2 (also available online)
Recommended texts (but not required)
Book of Worship, UCC
Living Theological Heritage, Vols. I-VII Ed: Barbara Brown Zikmund (available on flash drive from UCC Resources)
FAQ
How much time will I spend engaged in this course?
This is a rigorous course with extensive reading, online research, student interaction and weekly assignments. Be prepared to devote 8-10 hours a week for successful completion.
Can I receive academic credit for this course?
This course has been approved as a three hour course by a number of Seminaries and Schools of Divinity. Students interested in receiving credit through their seminary should contact the instructor, Rev. Heather Bardole directly at [email protected].
Will my association or conference accept this course as a part of authorization requirements?
This course has been widely accepted to meet History & Polity requirements for Ordination and Privilege of Call in many UCC Associations and Conferences. It is the student's responsibility to check with their local Association/Conference to determine the acceptance of this completed course.
I'm not great with technology. Is training available?
Technology training videos are available and a staff member is available to students who need further training.
Can I arrange a payment plan?
Contact Director of Operations Chris Hamel ([email protected]) for more information.
Your Instructor

Class Curriculum
Getting Started
Available in days
days after you enroll
Week 1 (Sep 6-12): Introductions & Orientation, A Denomination of Pilgrims, Overview of the Four Traditions
Available in days
days after you enroll
Week 2 (Sep 13-19): We Are a People of God's Extravagant Welcome (The Four Traditions)
Available in days
days after you enroll
This course is not open for enrollment.