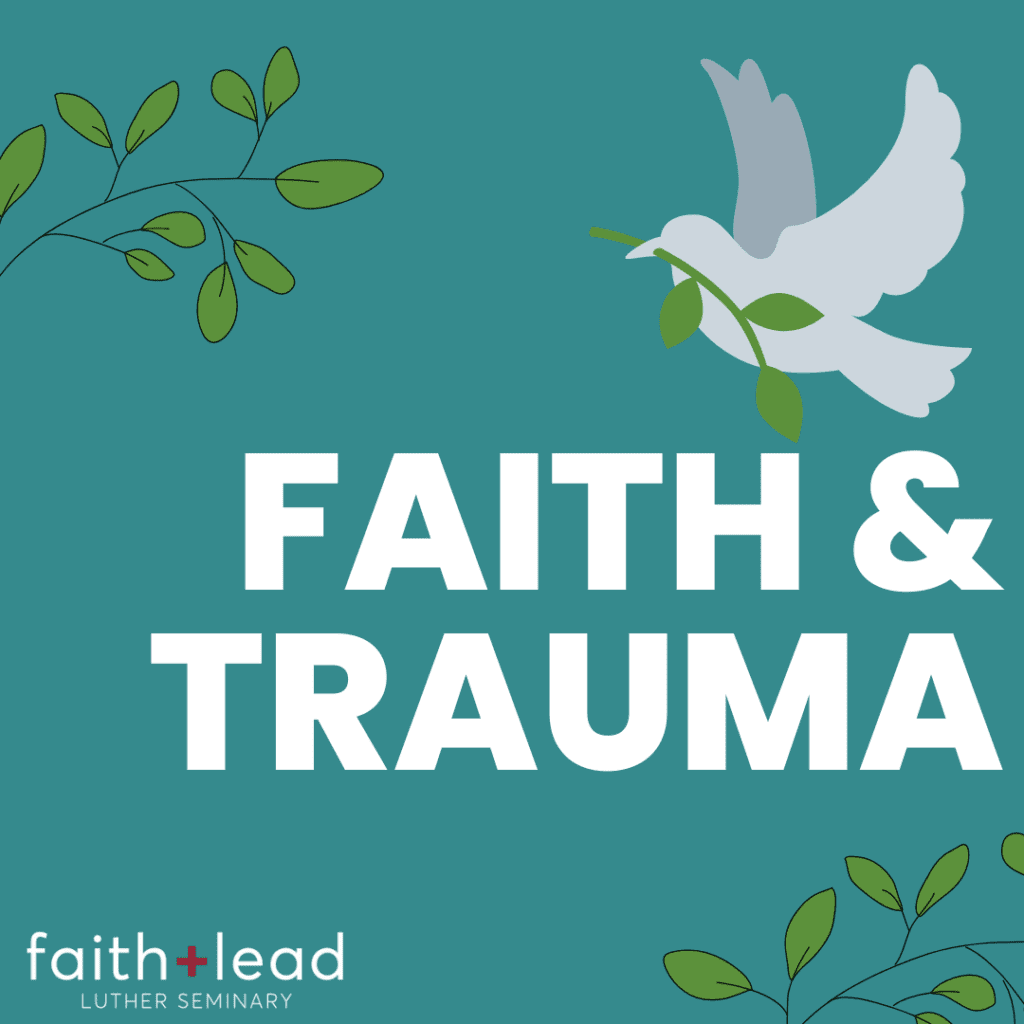 The word "trauma" originally comes from the Greek language and referred to a physical wound. The American Psychological Association defines trauma as "an emotional response to a terrible event like an accident, rape, or natural disaster".
Immediately after the event, shock and denial are typical. Longer term reactions include unpredictable emotions, flashbacks, strained relationships, and even physical symptoms like headaches or nausea. This understanding of trauma began in the 1880s and has gained momentum and expanded the definition broadly through the past century into the present. Pastors and ministry leaders in faith communities who are trying to be pastorally sensitive want to create safe, trauma informed-ministry for anyone who walks through the door and this can be challenging.
What do we mean when we talk about trauma in the church?
What we mean when we talk about trauma in the Church is really about the longer lasting effects of unintegrated trauma or post-traumatic stress disorder (PTSD). PTSD happens when the brain cannot integrate the initial emotional response to the traumatic event over time. There are a number of therapeutic methods that people turn to for support in healing, including cognitive processing therapy (CPT) for PTSD, which I am trained in.
In my experience of working with clients using CPT, the event that creates PTSD for one person may not create it for another. It is about your brain's thoughts about the feelings that the initial traumatic event created and becoming stuck in the patterns that protected you in the moment or are reinforced from a previous traumatic event. Professional help is needed to process and aid in healing. Most church leaders are not equipped for this, except to give out referrals to professional therapists and/or PTSD programs. Yet pastors and the church community are often the first place a person will go when in crisis. So, what can faith communities do?
What can faith communities do?
The Center for Disease Control's Office of Public Health Preparedness and Response (OPHPR), in collaboration with SAMHSA's National Center for Trauma-Informed Care (NCTIC) put together six principles that guide a trauma-informed approach during public health emergencies including:
Safety
Trustworthiness & transparency
Peer support
Collaboration & mutuality
Empowerment & choice
Cultural, historical & gender issues
What I want to focus more on is how we draw from our rich Christian tradition of spiritual practices that offer a variety of frameworks to help hold, process, and release emotions and thoughts safely—not eradicating the trauma, but offering another support for healing. There is an excellent article by Harold G. Koenig "Religion, Spirituality, and Health: The Research and Clinical Implications" which concludes that spirituality and being part of a faith community benefit mental and physical health. When it comes to processing trauma, here are some suggestions from the Christian tradition:
Worship and healing services: In my tradition, the Episcopal Church, we believe that the "sacraments are outward and visible signs of inward and spiritual grace" (Book of Common Prayer, 857). Whether your faith tradition believes in seven sacramental rites like mine does or in the two essentials—Holy Baptism and the Eucharist/Lord's Supper/Holy Communion—these rites give people a place to remember that they are loved and cared for by God in tangible ways. Adding a healing service, where people can come and be anointed with healing oil and have the laying on of hands in prayer can be deeply healing for trauma. Offering healing services for those struggling with fertility, pet memorial services, divorce liturgies, and Blue Christmas services for those who are grieving are also good options.
Using the arts: The Christian tradition is rich in music, art, drama, and dance. Having the community come together to express pain, outrage, and to receive healing through an artistic endeavor works on what words cannot reach. Creating a mural together, holding a musical benefit for a community tragedy, using liturgical dance or other corporate movement to express lament (like tearing paper or all screaming into the void at the same time), drumming circles, and creating a verbatim play borne out of personal experiences of grief enacted by members of the congregation are all ways to integrate and transform a traumatic experience into healing.
Personal prayer: There are many practices of prayer that connect us with God and aid in healing. There is no one right way to pray, especially when we have no words after a traumatic event has happened. Some especially helpful prayer practices are: centering prayer, creating a mandala, doing a labyrinth walk, writing a letter to God, journaling, visio divina (with an icon or other art), yoga, breath prayers, and praying by making marks on a page with colored markers/pencils.
Connecting with creation: We are called by God to be good stewards of Creation and being in nature is one of the most healing places we can go when trauma strikes. Your faith community can offer group hikes or walks, do listening walks around the church neighborhood, create a community garden on your property, offer a home altar workshop by collecting things on a walk together, have worship or special services outdoors, or dedicate a few plants on your campus specifically in response to a traumatic event that happened—watching them grow and change as the grief is transformed.
There are many other spiritual practices for individuals and groups that can support the healing of trauma. The important thing is that we do not leave out our spirituality and faith from our physical and emotional healing of trauma and remember: God is with us in all of it.